How to Take Scrubs to the Next Level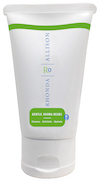 Are you getting the most from your facial scrub? We know and love scrubs for their exfoliating, softening, and deep-cleaning properties, but by blending them with other formulations, you can create customized scrubs designed to support client's specific skin needs.
How do you get a dual purpose out of your scrubs? It starts with identifying the outcome you wish to achieve, understanding how ingredients synergize, and using a quality base scrub.
Starting with a good base
It all starts with selecting the right physical exfoliator for your client's skin. Primary forms of granules used in scrubs include pumice, jojoba beads, diatomaceous earth, pearl powder, and bamboo, and each works with skin differently.
Jojoba beads – one of the gentlest exfoliators, these are "liquid wax" micro jojoba beads that do not stress or tear the skin. They will naturally allow the oil to melt into the skin to further soften sebum and skin cells. Jojoba beads can be found in the Gentle Jojoba Beads, which provides an emulsifying, lathering cleanse while delivering pure oil hydration and eliminating pore build-up.
Diatomaceous earth – a naturally occurring, soft rock with an abrasive feel similar to pumice powder. It is a purified form of algae in a fine grain.
Bamboo – contains the richest source of silica, a silicon and oxygen compound also found in many rocks and the Earth's crust. The powder is derived from ground bamboo stems – it works for both facial and body scrubs. Bamboo along with jojoba beads can be found in the RA for Men Buffed. This amazing scrub, dissolves surface residue, and provides a deep cleanse and antioxidant support. While this was created for men, women use, and love it too!
Pearl powder – finely milled from freshwater pearls, which are rich in minerals and provide antibacterial, detoxification and skin-nourishing properties. The Bamboo Scrub uses bamboo (of course) as well as pearl powder and jojoba esters to hydrate, replenish, and stimulate the skin while providing antimicrobial and antiseptic properties.
To further deepen the benefits of these natural exfoliators and customize them to the client's skin, you might consider blending them with one another, or with other formulas or exfoliating enzymes to create an active scrub. Depending on the active the granular is teamed with, the outcome will vary.
Getting the most out of scrubs
Blending scrubs with cleansers, enzymes and corrective serums enable you to further tailor it to your client's skin and the treatment goals. Here are a few recommendations for scrub mixes:
For Brilliant Brightening:
Blend Gentle Jojoba Beads or the Bamboo Scrub with the Skin Brightening Cleanser to support any brightening program. The Bamboo Scrub, while a body scrub, it really works as a wonderful face and neck scrub. It has hydrating, replenishing and stimulating properties that boost the effects of brightening and cleansing ingredients.
For deeper brightening support, blend Gentle Jojoba Beads with the Skin Brightening Enzyme to soften and digest unwanted skin, and support a glowing complexion.
Buffed may also be mixed with the Naturale Mega Brightening Serum to deliver the natural brightening properties of daisy flower deeper into the skin.
For Smoothing and Rejuvenating:
For a Deep Cleaning and Exfoliation:
Buffed takes cleansing to the next level and effectively dissolves surface residue, and provides antibacterial, antifungal and antioxidant support. On its own it will offer a great cleanse, but to deepen the cleanse blend Buffed with the Beta Green Tea Cleanser. A powerhouse blend for problematic skin.
Clients may also be sent home with these blending recommendations for home care between treatments. The most important thing is to know the client's skin and what will best produce the desired outcome, and always opt for natural, tried-and-true, quality ingredients.