Why Pumpkin (with Twist) Could be the Perfect Fall Remedy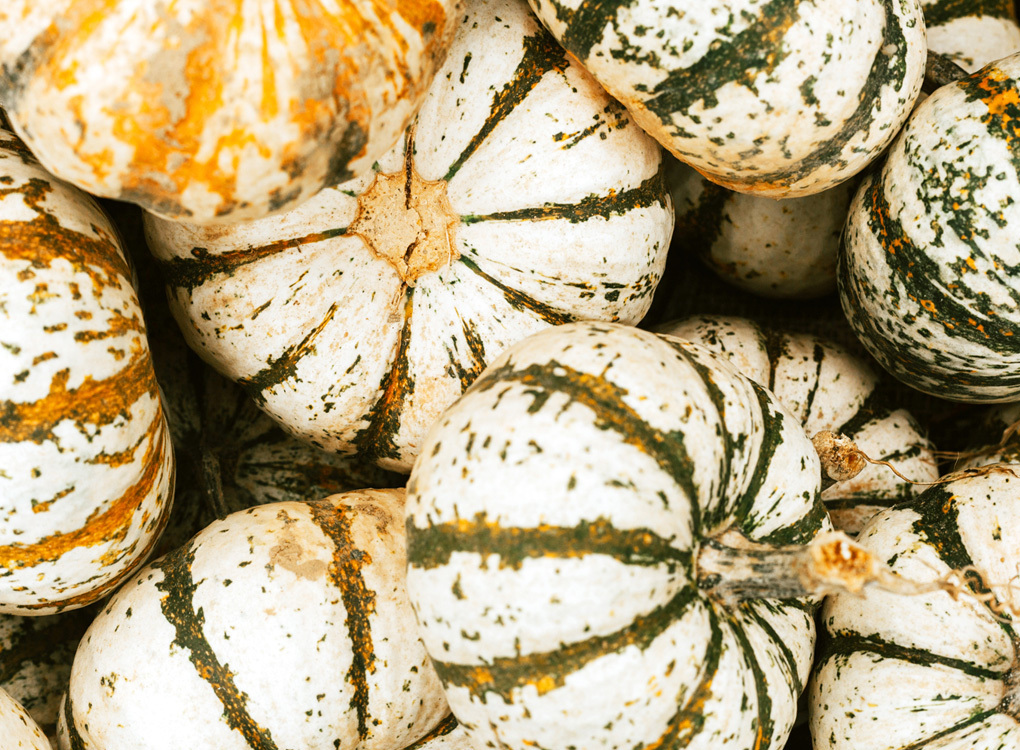 With the autumnal equinox just behind us, it's safe to say it's officially pumpkin season ––a season we absolutely love for many reasons. For one, it's a shift into a new season (a cozy one for that matter), which has significant meaning, and two, it brings a bounty of fall ingredients that are deeply nourishing for skin.
Of course a fall favorite is pumpkin. This super fruit provides a potent supply of potassium, zinc, vitamins and beta-carotene (plus 100 other skin-nourishing ingredients). On its own, pumpkin stimulates collagen, hydrates, repairs, and protects the skin, and when combined with other fall favorites like apple, cinnamon, or clove, it becomes even more powerful.
As you transition clients from their summer skin care systems and treatments, to one more fall appropriate, here are a few ingredients to consider pairing with pumpkin…think of it as pumpkin with a twist.
Apples (pyrus malus/L-malic acid) – when combined with L-malic acid, which has firming, toning and regenerating properties, the pro-youth, rejuvenating benefits are boosted. Find it in the new Pumpkin Apple Fall Facial and Pumpkin Apple Fall Peel.
Grapes (vitis vinifera/resveratrol) – grape seed extract is a source of flavonoids that protects capillary walls and inhibits the enzymes that break down collagen, hyaluronic acid and elastin. It also provides antioxidant, firming and toning benefits, as well as exfoliation. Combined with pumpkin, the result is an antioxidant powerhouse. Find the duo in the Antiox Ex-Fusion Facial.
Paprika (capsicum annum)– paprika stimulates and detoxifies cells, and revitalizes and oxygenates the skin. It is made from the grinding of dried bell peppers or chili peppers and is high in antioxidants and vitamin C. With pumpkin, cellular respiration is enhanced. Find it in the Double Infusion Lightening Rx
Clove (Eugenia Caryophyllus) leaf oil – primarily used as a natural anesthetic and antiseptic stimulant, clove has been cultivated the world over for more than 2,000 years. The oil has long been used in Chinese medicine for detoxification and to stimulate the circulatory system. Its aroma also helps to stimulate the mind. Find pumpkin and clove together in the Pumpkin Cleanser,Pumpkin Lotion, and Pumpkin Parfait Enzyme or add Grape Seed Hydrating Serum to a pumpkin-inspired fall home-care system for truly tantalizing (and antioxidant-rich) combination.
Cinnamon (Cinnamomum cassia) leaf oil – with its spicy, awakening fragrance, cinnamon oil is primarily used in skin care preparations for its potent antibacterial and antifungal properties, as well as its stimulating effects. It is the terpenoids found in the oil believed to promote a glowing, healthy complexion. It also contains phenolic compounds, flavonoid derivatives, and its antimicrobial and antioxidant properties work to tighten and lift the skin. Find pumpkin and cinnamon together in the Pumpkin Cleanser or combine pumpkin with the Grape Seed Hydrating Serum.
Clients love all things pumpkin this time of year, so as you ready them for the fall and winter seasons, consider blending the all-natural powerhouse with other seasonal favorites. Not only will they love the delicious aroma, they'll also love the results. You might also consider using these seasonal ingredients to create clever marketing promotions –pumpkin and spice is a perennial favorite. Think about tantalizing, warming and soothing treatments you can add to the menu or even trick-or-treat gifts with a treatment purchase.
Question: What is your favorite fall combination?