Summer Skincare: Treating Summer Acne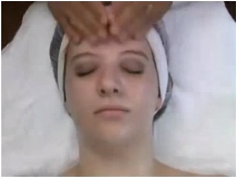 We're on the heels of Labor Day and for many of us that means summer will begin to wind down soon. This is also the time when many head back to school and work, and many of you may have clients coming in for end-of-summer "tune-ups." One common skin challenge, aside from the sunburns, discoloration or sun-relating aging, which I recently wrote about, is summer acne.
For those who do experience acne during the summer months, it could be tied to increased sweat production or pore-clogging sunscreen formulas. Sweat, when mixed with excess oil or bacteria, can create an occlusion of the pores, which can result in red bumps. Often clients will notice red, rash-like bumps rather than larger blemishes. These commonly appear on the forehead, cheeks (for women who wear blush) or areas where skin may be suppressed like under a hat or helmet (known as acne mechanica).
Summer travel can also cause acne. Often airplane travel will deplete the skin of hydration. This can cause dehydrated cells to build up, while simultaneously causing oil glands to overcompensate, increasing production. All of this gets trapped just below the surface and triggers a breakout. Excessive exposure to the sun without protection and fluctuations in weather can have a similar effect. This season has been an odd one for many parts of the country – we've experienced unseasonably chilly days mixed with extreme heat. This can cause an imbalance in the skin.
How do you help clients restore their skin to optimum health?
In the Treatment Room
The Teen Express
For teens, the Teen Express is always a favorite. It's a quick, yet effective 30-minute treatment that provides a deep cleanse, a mild exfoliation, and healing and calming properties for more glowing skin.
The Crystal Clear Peel
The Crystal Clear Peel is another good option as it helps control sebaceous activity, remove the dead cells that have built up over the summer, loosen debris and impactions, and help speed healing and recovery. This treatment uses the Glycolic Herbal Wash followed by the Fruit Acid Botanical to deeply cleanse the skin. The next step will help exfoliate, prepare the skin for extractions and cleanse bacteria from lesions. It starts with microdermabrasion, followed by the Citrus Gel Cleanser, which is massaged into the skin, concentrating on lesions, while steam flows over the skin.
Lesions and congested areas are dotted with the Blemish Complex (some clients may require a fan for this). Then a combination of the Cell Conditioner and Cacti Mud Mask is applied to the skin. Finish with Growth Factor Serum and eZinc Protection Cream.
At Home
Send clients home with a tailor-made skin care regimen. This will be based on your expertise, what you did in the treatment room and their goals. Some products that work well for acne-prone skin include: