Reform the Body this Summer Pt 1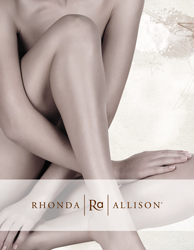 Part One: Rejuvenate Noninvasively in the Treatment Room
Summer is nipping at our heels, and some parts of the country are already experiencing pool weather. And with summer comes the quest for achieving the "perfect body." You can help clients work towards their goal by developing a customized age-reversal program specifically for their skin – just as you would for their face.
How do you build a body rejuvenation program that doesn't involve going under the knife?
As aesthetic professionals we have a number of tools at our disposal to do just that. Using a combination of body peels, customized home care systems, and educating the client about body care, we can help clients achieve toned, supple and firm skin, and address issues like hyperpigmentation, keratosis pilaris, acne, aging, dull form, slack skin, and cellulite bumping, to name a few.
In this three part series, I will cover the how to create body peel treatment, continuing the care at home, and how clients can boost the effects of the treatments.
The Art of the Body Peel
Body peels, much like facial peels, work beyond the surface to reduce course texture and fine lines, diminish age spots and hyperpigmentation, and help maintain healthier, more youthful looking skin. For these reasons, clients are typically receptive to body peels as an alternative to surgical procedures. Plus, they love the soothing effects of the "corrective body massages."
These corrective treatments will initiate deep stimulation, breaking the skin down, then rebuilding and nourishing it while stimulating cell turnover. Treatments may be adjusted and customized to address nearly any skin type or issue, and allow you to provide solutions to sun-damaged, photo-aged or sagging skin, as well as the appearance of cellulite.
I've written about the do's and don'ts of body peels before, but as quick reminder, never treat more than 25 percent of the body at one time, always perform a skin assessment, take note of existing scar tissue or sun damage, and never peel the breast area or buttocks. You'll also want remind clients to keep out of the sun in the weeks following and wear something soft, and with more coverage, on the day of their treatment.
Formulating a Body Peel
Typically enzymes, AHAs – particularly L-lactic acid – work well with the body's tougher skin to lift away deeper layers of dead skin cells, provide antioxidants, and regenerate and hydrate, leaving the skin smooth and polished.
For example, if treating sun-damaged, photo-aged, dry, sagging skin, start with a lactic acid prep (like the Maui Peel) followed by a retinol-peeling agent with peptides (like the Peel Cream) to tone, firm and smooth the skin. For deeper intensity or more aggressive treatments, most body peel treatments may also be coupled with microdermabrasion.
When treating the body, the skin must always be prepped with a good cleanse and exfoliation. Peeling agents are best applied to dry skin to digest dead skin cells, and soften and hydrate the skin.
Finish the treatment with nourishing, skin-building ingredients like peptides, growth factors, amino acids, and oxygenators (the Bio Reform 28 and Energrizing Peptide Spritz work great for this). If performed during the daytime, be sure to apply sun protection like zinc (Daytime Defense SPF30), which is a good all natural physical blocker that limits the risk of irritating the skin unlike many chemical blockers.
Professional body peel treatments supported by a daily home-care regimen will significantly change the health and appearance of the skin. Body treatments will also allow you to expand your service offerings and ensure you are equipped to provide solutions to your clientele's needs.
Question: What is your favorite body treatment or technique that clients rave about?