Keep Your Clients Coming Back!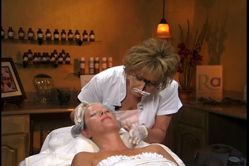 I have seen numerous reasons why a client chooses a particular aesthetician or facility to take their face (one of their most prized possessions!) for a treatment. It always begins with the desire for something more, a change, a youthful glow, comfort, connections, or just to feel better about the way they look. Over my 30 year career in asesthetics, I have worked with a wide variety of professionals and the best ones know that if the client does not enjoy the experience and get results, they won't be back.
Here is my top 10 list of professional aesthetic tips that will make your client's experience enjoyable and memorable
1. Be a true professional and look like one, no nail polish, don't wear strong perfumes, keep nails short, wear a lab coat or other professional attire and don't wear heavy jewelry, rings, or watches when you are working. (Since we work in such close proximity to clients - bad breath and under arm odor can totally sabotage all your good work - brush after meals, chew gum (not while you are giving a treatment) and don't forget the deodorant!)
2. Have a sparkling clean, warm, intimate environment for them to come to - I always loved it when my clients would say, "I have been looking forward to this all day - it is so peaceful here."
3. Avoid strong scents - mild essential oils are the most appealing, be very careful of sweet, over-powering candles.
4. Offer treatments that give results - even your corrective facials. Do cosmeceutical facials that last for weeks not days. Be prepared to do light skin peels that really change the skin!
5. Remember your HANDS are your best "tool". Develop your touch and maintain soft hands. I used to cool my hands in the summer and warm them in the winter just before I touched someone's skin for a pleasing first sensation.
6. Daily skin care is essential – choose credible skin products that are easy to use and make a difference they will see immediately!
7. Offer consistent specials for services AND products every month or at least quarterly. Sometimes even a $5.00 special on a product will motivate more purchases (as well as be appreciated!).

8. Creative aestheticians always stay busy – change up your treatments – Keep your clients wondering, "What is she going to do today?" Plus, skin gets tired and lazy, the skin changes so don't get into a rut.
9. Be passionate about the work and love what you do with integrity. Be educated, informed and on the cutting edge of skin services.
10. Be positive, focused, and confident that you will transform their skin. It is all about your client and how you make them feel like the most important person in the world – Be so good they can't live without you!
Keeping satisfied clients is easier that always searching for new ones. Employ these tips and watch your regular clients continue to come again and again and again…