Intelligent Ingredients on the Day of Love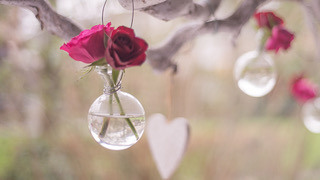 Valentine's Day may be all about pampering and indulgence, but many are also looking for ways to look and feel their best on the day of love. Even if clients are just in to relax, you can still indulge their skin in antioxidants and nutrients using intelligent ingredients.
Intelligence Ingredients for the Face
The seasonal Sweetheart Facial – great for pampering as well as rejuvenating the skin – uses a number of intelligent ingredients including those that work to regenerate, rebuild and protect skin tissue. Some of these ingredients include:
Amaranth protein – a natural foaming peptide that soothes the skin, reduces irritations and provides nine essential amino acids not produced by the skin.
Papain – derived from papayas, it works to dissolve keratin
Tocopherol (D-alpha) – vitamin E and a natural antioxidant that repairs skin tissue
Cacao crodarom – contains polyphenols for antioxidant support and cell damage protection, a naturally occurring mood-enhancing substance, and detoxifying support.
Arctic cranberry seed oil – a tocotrienol-rich oil, high in omega-3 and 6 EFAs, it works to lighten, hydrate, nourish, and protect the skin.
Linoleic and oleic acids – heals, hydrates, and permeates the skin barrier to facilitate the penetration of other active ingredients.
Grape seed oil – rich in hyaluronic acid to hydrate, and flavonoids to protect capillary walls and fight collagen break down. It also accelerates new tissue growth.
This tantalizing treatment begins with the soothing and calming Foaming Peptide Cleanserfollowed by a few drops of warmed Grape Seed Hydrating Serum, which leaves the skin soft, smooth and moisturized. Papaya Tangerine Enzyme works to rejuvenate the skin and create a silky feel – the perfect anecdote to winter weather.
The chilled Milk Mask and Chocolate Antioxidant Mask brushed onto the face works to detoxify, hydrate and repair cell damage. A combination of Grape Seed Hydrating Serum and Drops of Essence massaged into the skin delivers hydration, repairs and paves the way for other important active ingredients to penetrate the skin. The treatment finishes with Grape Seed Moisture Gel and Daytime Defense to protect and rebuild. The skin will feel rejuvenated, firm, tone, and smooth.
Intelligent Ingredients for the Body
Body treatments are always a delicious treat, and will give your clients the supple, smooth skin they desire for Valentine's Day. Intelligent ingredients that support a smooth, supple body include:
Rhodiola rosea root extract – provides antioxidant support, inhibits inflammation, reduces moisture loss, supports epidermal regeneration, strengthens the skin's protective barrier, and provides nourishment for cell renewal.
MMP (matrix metalloproteinase) enzyme inhibitor complex – improves skin appearance by fighting the enzymes that breakdown the skin's collagen network, increases skin elasticity and resistance to external irritants.
Peptides – a blend of peptides (palmitoyl oligopeptide, tetrapeptide, tripeptide) that improves elasticity, and stimulates the skin's natural collagen-producing mechanisms.
Apple stem cell – promotes skin cell longevity, protect against UV-radiation, and reduce the appearance of aging.
Help your clients get silky smooth, healthy and radiant skin for Valentine's Day using these intelligent ingredients. Even if their primary goal is to simply relax, you might still provide them some information on some of these powerful ingredients and a home-care kit to help maintain the nourishment.
Question: Do you educate your clients about ingredients during their treatments?