In the Treatment Room With MICHELLE MOYER, OWNER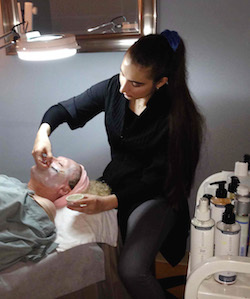 PULSE LASER & SKINCARE CENTER IN NYC
What is your favorite treatment protocol and why?
My favorite acne treatment protocol is the Rhonda Allison Green Tea Acne Treatment. Acne is a very common problematic concern that people battle these days, and it can often make them shy or anxious. I feel, when I use this protocol, I have the potential to make a large impact in the improvement of my clients' skin. Not only do extractions help minimize the bacteria in the skin, but the Beta Green Tea Cleanser and the Beta Green Tea Lotion also help emphasize the clearance of superficial impurities. I really enjoy using the Bromelain Enzyme Paste, which helps dissolve the sebum beautifully in order to facilitate the extractions. Clients who undergo this treatment leave with smoother skin to the touch and diminished bacterial content on their skin due to the active ingredients – salicylic acid and green tea.
What are you or your spa best known for?
Because we live in New York City, we get a lot of clientele that have congested or acne prone skin. So, that has become our specialty. The weather here can be hot and humid in the summer, and dry and cold in the winter, so the seasonal changes can wreak havoc on the skin. We usually have to switch up regimens twice a year. I am definitely known for my gentle yet thorough extractions and deep facial muscle massages. I like spending time on the massage because I believe it makes a huge difference in people's skin. Through the lymph nodes, all toxins can be drained and eliminated which makes the skin feel and look toned, lifted and refreshed.
Do you have a recent success story you can share?
Recently a coworker and I co-treated a client with severe acne. I worked on the facial treatment portion of her protocol and my co-worker treated her on laser. With this tag-team approach we made HUGE changes in the appearance of her skin. She is extremely happy, using proper home care, and has seen a drastic difference in the reduction of acne lesions, reduced congestion and inflammation, and overall improvement of her self-esteem.
What is your best-selling treatment or product?
I love selling the Beta Green Tea Cleanser and Beta Green Tea Lotion. They complement each other fantastically. To have beautiful skin you need to start with basic products that contain powerful and soothing ingredients. Salicylic acid to kill the bacteria causing the breakouts and diminish oiliness, and green tea to soothe the skin, making it great for sensitive, rosacea-prone skin.
How do you help clients relax in the treatment room?
To help clients relax in the treatment room I always include an arm and neck massage during the mask portion of the treatment. When the mask sits for 10 minutes I deep massage both arms and the neck to release all tension while their skin is undergoing a regenerative and calming process on the face. It's the perfect combination and clients love it! We light a lavender candle, and I try to just stay quiet and let them take an hour out of their busy lives to feel good.
How do you educate clients about skin health?
We are actually very well known for educating our clients on all aspects of skin health. We talk about their current home care regimen, and we see where we are able to either overhaul or supplement with additional products. We also discuss diet and lifestyle to see if we can pinpoint anything that could be causing skin issues. We try to go over methods of application for home care, and explain ingredient benefits.
Do you have any favorite marketing tools for engaging customers and attracting new ones?
Yes, marketing products as a three-step skin care routine has engaged clients to buy and recommend products. Rhonda Alison's products that are from the same line are designed to work best when used together, in the same regimen. It maximizes the results drastically, even more than if you were to use products from different companies i.e.: cleanser from company A, toner from company B, moisturizer from company C.
How has Rhonda Allison supported the growth and success of your business?
Because we are in New York City and Rhonda Allison is based in Dallas, TX we aren't always able to attend the in-person seminars. That being said, Rhonda Allison always has seminars online, and we have taken advantage of them for our entire office. The marketing materials are excellent, and our rep is always available for us if we have questions. Not only can we attend the live stream, but we are provided with a recording that we can re-watch if we have any doubts.