How to Get the Body Summer Ready with Spring Peeling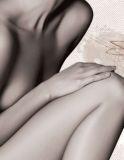 Renewal and spring cleaning are always top of mind this time of year. We turn our attentions to discarding the old to make way for the new, and shedding the dull of winter in exchange for the vibrant, youthfulness of spring. As important as this renewal process is for nature, it is just as necessary for our skin.
Rejuvenating treatments are essential for clearing away dead winter cells and preparing the skin for summer. This is true of all skin, so think beyond only treating the face and explore how you can help your clients achieve whole body radiance. This will likely be a major concern of theirs as they prepare for days spent in sun dresses and tank tops.
Why Body Peels?
In a simple answer skin is skin, and regardless of where it is on the body it ages just as our faces do and is subject to the same harmful environmental elements. By treating the body with the same ingredients we use for facial rejuvenation, we can help our clients achieve healthy, radiant skin all over.
Body peels, much like facial peels, work beyond just the surface to reduce course texture and fine lines, diminish age spots and hyperpigmentation, and help maintain healthier, more youthful looking skin. Peels are like a workout for the skin, and clients will notice an almost immediate difference in firmness, which most of us want as we head into summer.
What You Need to Know
Though many of the formulas used in body peels will match those used in facial peels, there are different techniques and skin issues to be cognizant of before administering a body peel.
Of course, there are a variety of treatments using varying degrees of acids and enzymes to address specific concerns as well as comfort level, and a skin assessment will help determine which best to use. With the body, you'll also want to be sure to note any existing scar tissue or sun damage, as well as veins, spots or moles.
Formulating a Good Body Peel
As for formulas, typically enzymes, AHAs and L-lactic acids in the T1 and T2 range, as well as the Apple Wine Peel work well with the body's tougher skin to lift away deeper layers of dead skin cells, provide antioxidants, and regenerate and hydrate, leaving the skin smooth and polished.
An example of an exquisite treatment is the Wine Luster Body Peel. This light body peel is one of our newest creations, and is ultra luxurious. The goal of this treatment is to lighten the skin, exfoliate dead cells, and smooth and soften.
To achieve this, we begin the peel prep phase with a blend of the Brightening Scrub/Melanin Suppressant Solution, then an application of 25% AHA Gel to begin the exfoliation, and lighten and polish the skin. Moving into the peel application phase we use the Apple Wine Peel to digest dead skin cells, soften and hydrate the skin, and provide a boost of antioxidant support. The treatment finishes with the Energizing Peptide Spritz and the Bio Reform 28 to nourish and rebuild the skin.
That brings me to my last point. Don't forget the post-peel nourishment and home care system. The Energizing Peptide Spritz and Bio Reform 28 will reenergize the cells, activate collagen production, detoxify skin tissues, and hydrate. Meanwhile, clients can continue the rejuvenation at home with systems like the Bamboo Scrub followed with the Bio Reform 28 or the Peel Cream and Bio Reform 28 for repair and support. Your clients will be summer ready in no time!
Question: Are you ready to take your client's to the next level of skin rejuvenation?