We can slow down how the skin ages! Using our Pro Youth -10 multi-faceted approach to cellular aging, we take into consideration DNA health, energy efficiency, communication between cells, collagen and elastin synthesis, epidermis cell health, and so much more.
Our Pro Youth -10 philosophy addresses all aspects of aging and is designed to help your skin AGE less!
Stimulate Energy and Cell Communication
Increase Cellular Turnover
Replenish Collagen, Elastin, Antioxidants and Lipids
Repair Glycation, Cellular Dysfunction and DNA Breakdown
Reverse and slow the signs of aging with our intelligent result focused formulations. Are you looking for the "Fountain of Youth"?
A healthy, skin strengthening home care regimen plays a primary role in achieving results!
Stimulate Energy and Cell Communication
Two areas that experience a significant decline as we age – energy and communication. Both are essential to perform daily cellular functions. If you don't have cellular energy you can't produce collagen & elastin as an example. Key ingredients like pyruvic acid, CoQ10 and niacinamide help rev up the cells' energy and communication for effective change!
Increase Cellular Turnover
A decrease in cellular turnover is a key factor in accelerating skin aging. As we look to increase cellular turnover with Pro Youth skin, it is critical to find balance. If we over exfoliate, we will essentially be going backwards in our effort to slow the aging process.
Pro Youth skin needs exfoliation, but in a healthy way. Research shows that by stimulating the fibroblast cells, we help increase the collagen & elastin of the skin, which helps reduce the signs of aging, while strengthening the epidermis cells. Our focus is to nourish the dermis with powerful retinaldehyde and peptide formulas which trigger a surge in fibroblast cell production. Gentle enzymes are also incorporated for skin with excessive buildup. Enzymes soften texture and reduce fine lines and wrinkles, revealing a more youthful-looking appearance.
Replenish Collagen, Elastin, Antioxidants and Lipids
The skin begins to lose antioxidants, lipids and collagen as we age, and the loss is accelerated by exposure to years of environmental damage. These elements are crucial to healthy skin and slowing down aging. Increase protection against stressors and UV damage by feeding the skin with potent antioxidants – vitamin C, vitamin E, superoxide dismutase, L-glutathione, green tea, resveratrol and others.
Restore the lipid barrier function with lipid-mimicking ingredients like organic macadamia nut oil, omega essential fatty acids and grape seed oil to help create a hydrated, healthy glow. Finally, replenish the loss of collagen and elastin in the skin by boosting development with cutting-edge peptides and retinaldehyde formulations. The skin sees a reduction in fine lines and wrinkles and an increase in volume and firmness.
Repair Glycation, Cellular Dysfunction and DNA Breakdown
Our environment, foods and body health all play a major role in how the skin ages. DNA begins to create more and more errors as we are aging. Bringing in ingredients to repair DNA damage will significantly aid in the health of the skin. Glycation support can be a missing link to many pro youth regimens. We focus on adding vital stem cells like plantain leaf, lilac, gardenia and edelweiss to bring a healthy glow and restore skin.
It is important when selecting a regimen to address each of these aging components. Many of our intelligent formulations have multi functions and crossover ability all to slow down aging and restore the skin to a more youthful appearance!
Rebuild, revive and rejuvenate Pro Youth skin!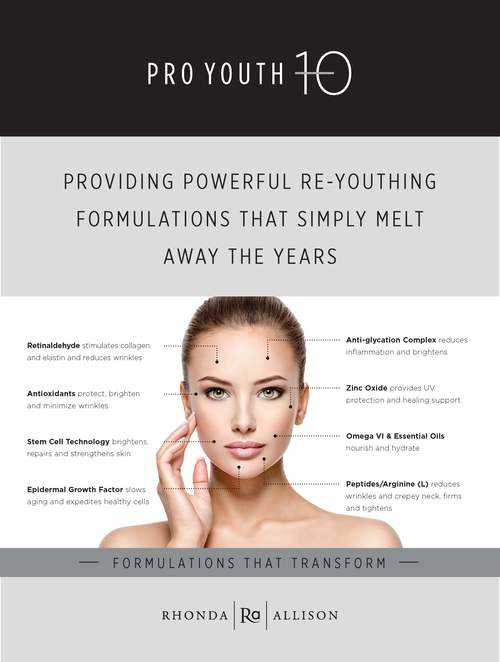 Explore more indepth with our Corrective Facial, Peel and Home Care options

Click here to download protocols
Pro Youth -10 Facial
---
Age Reversal System
Reverse and slow the signs of skin aging with the quintessential in pro youth skin care.
Our Age Reversal System contains the most cutting-edge, intelligent, result-focused ingredients such as peptides, stem cells, encapsulated retinaldehyde, an anti-glycation complex and holistic antioxidants to reduce inflammation and wrinkles, boost collagen and elastin synthesis, while reversing cellular damage – truly transforming skin!
Increase firmness and elasticity to reveal beautiful skin and a lasting youthful complexion while nourishing omegas and organic oils boost and lock-in deep hydration.
This comprehensive system creates a simple yet result-driven AM and PM home regimen that simply melts away the years. Skin will be youthful, glowing and radiant!
System Includes:
AGE less (30ml)
Peptide 38 (30ml)
ChronoPeptide A (30ml)
Infuse 7 (15ml)
Each System Includes:
AGEless- Our newest enhanced anti-glycation serum to lessen the signs of skin fatigue, provide key antioxidants and UV support and improve the appearance of skin elasticity and firmness. All the while, improving tone to provide a luminous, radiant glow to the skin.

PEPTIDE 38 – One of the most powerful peptide complexes to date blending a next-generation matrikine-mimetic peptide with the added benefits of essential oils for oxygenating and rejuvenating benefits. Skin will immediately feel plumper and more buoyant.
CHRONOPEPTIDE A – A unique retinaldehyde-based, skin-building peptide complex that strengthens, firms, tones and minimizes the appearance of wrinkles – all the skin rejuvenation benefits of retinol without the irritation or down-time.

INFUSE 7 –A rich supply of fatty acids, tocopherol, vitamins, flavonoids and antioxidant support that nourishes skin while delivering potent pro-youth benefits, improving elasticity, increasing skin thickness, reducing inflammation and providing deep hydration to restore the lipid barrier and slow down the signs of aging.

Recommended RA Treatment Cleansers for this system include: Gentle Peptide Cleanse and Pumpkin Lactic Cleanse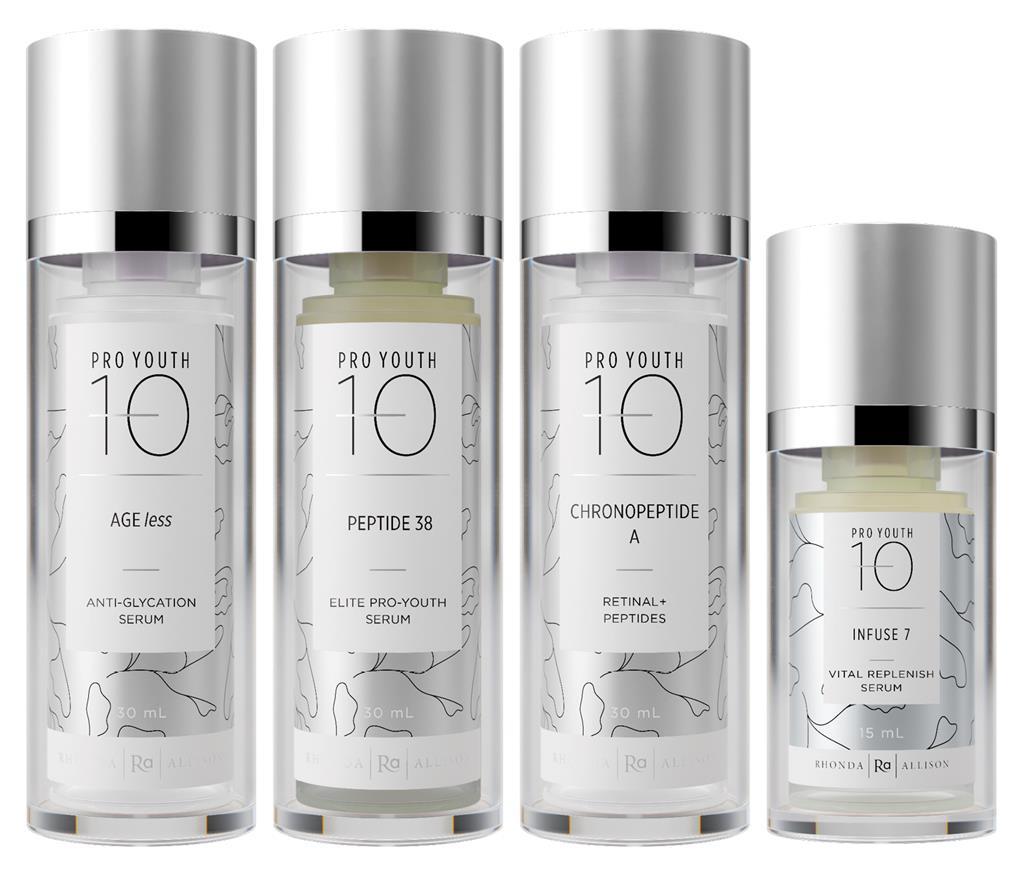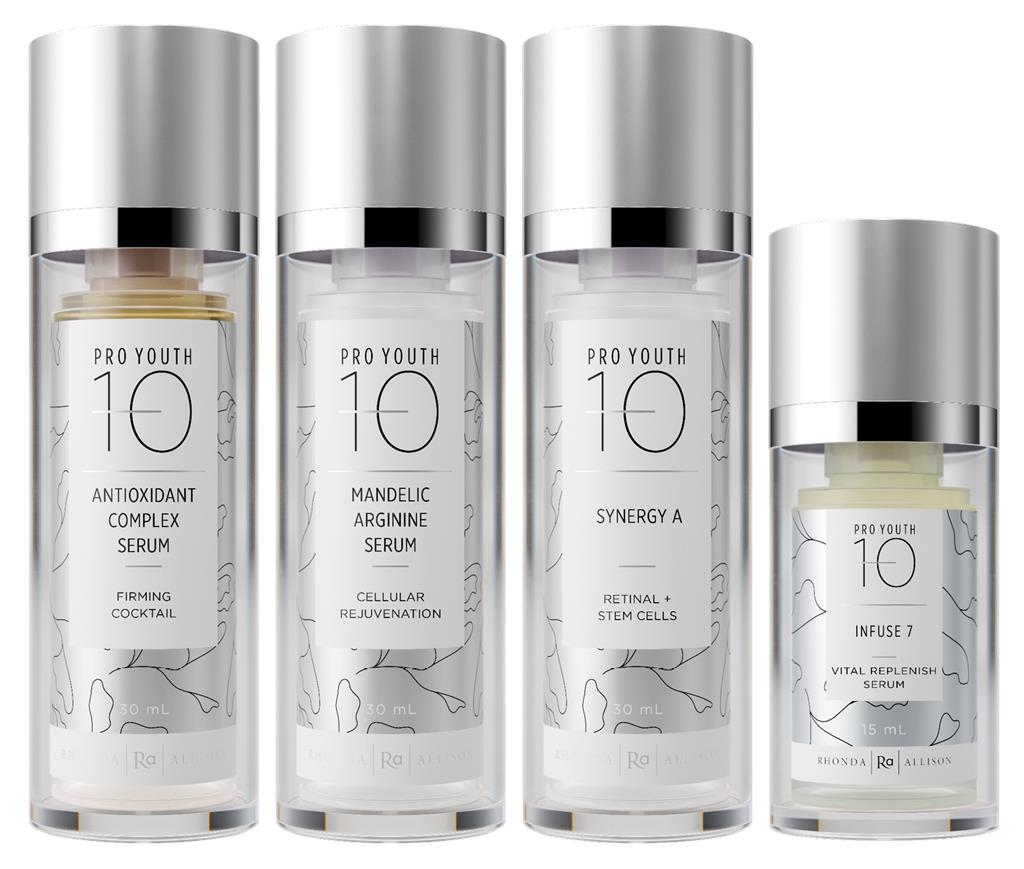 Age Reversal System - Sensitive Skin
Sensitive skin can still experience a slowing down and reversing the signs of aging.
Our Age Reversal System Sensitive Skin contains some of our most intelligent, cutting-edge, result-driven ingredients such as powerful antioxidants, bio-peptides, encapsulated retinaldehyde and stem cells to help reduce fine lines and wrinkles and protect skin from toxic environmental damage.
This system focuses on increases cellular energy, boosting collagen and elastin synthesis, increasing firmness and elasticity in the skin. A soothing and nourishing blend of organic oils and omega EFA's help increase hydration and give skin a lasting, youthful complexion.
This comprehensive system creates the perfect AM and PM home regimen that reveals younger-looking, beautiful skin!
System Includes:
Antiox 18 Complex (30ml)
Mandelic Rejuvenator (30ml)
Stem Cell A (30ml)
Infuse 7 (15ml)
ANTIOX 18 COMPLEX – Potent antioxidant protection from 18 different antioxidants combined with the firming and toning benefits of a biopeptide. Skin is hydrated, protected and youthful looking. Delivers a visible difference in the skin after 2 weeks of use!

MANDELIC REJUVENATOR – A potent skin strengthener that protects against environmental stress, firms, brightens and hydrates skin using three times the antioxidant power of regular vitamin C and eco-sustainable plant stem cell technology for healthy-looking skin.

STEM CELL A – A reconstructing retinal complex with plant stem cell and peptide technology for even the most sensitive skin. Provides powerful collagen support, strengthens skin and reduces the appearance of redness and inflammation.

INFUSE 7 – A vital replenish serum that infuses skin with 7 elements for silky hydration and velvety, soft skin as nourishing oils and EFA provide vital moisture, improve skin elasticity and reduce the appearance of inflammation for immediate relief from dry, moisture-depleted skin.

Recommended RA Treatment Cleansers for this system include: Gentle Peptide Cleanse and Antioxidant Beta Cleanse.