ReZone Toner
REDMethod
ReZone Toner



Sake Toner for Men
GET SKIN IN SHAPE. TONE AND REFINE WHILE REDUCING AND PREVENTING INGROWN HAIRS, RAZOR BUMPS AND EXCESS OIL.
Skin will respond to rice wine, precious minerals and specialty teas as ReZone redefines and refreshes the skin after cleansing and/or shaving. A unique sake toner that reduces ingrown hairs and bumps caused by shaving, excess oil, skin cell buildup and coarse, stiff hair, ReZone dramatically improves the balance of normal to oily, thick, acne-prone, impure skins.
Today, one of the most common skin issues among men is Pseudofolliculitis Barbae. PDF (or ingrown hairs) generally results from shaving and is easily controlled with proper skin care and proper shaving. PDF can make the skin look itchy and red, and in some cases, it can even look like pimples. These inflamed papules or pustules can form especially if the area becomes infected. Although great for all men's skin types, ReZone will dramatically improve the balance of normal to oily and acne/impure skins and reduce PDF outbreaks.
In the treatment room:
Apply ReZone during a facial with saturated gauze and firm pressure after cleansing step and during finishing step for courser skin.
Re-apply after a close shave for added benefits and best results.
May be chilled to enhance the experience during any facial.
Supports skin after extractions to aid in bacterial control.
Tips for home care if PDF is a known problem:
Recommend clients shave every other day, rather than daily, and apply ReZone twice daily.
If your men are using a blade to shave, recommend they first soften the beard with REDMethod Pre + Post Oil and a hot, damp washcloth for five minutes to relax hair follicles.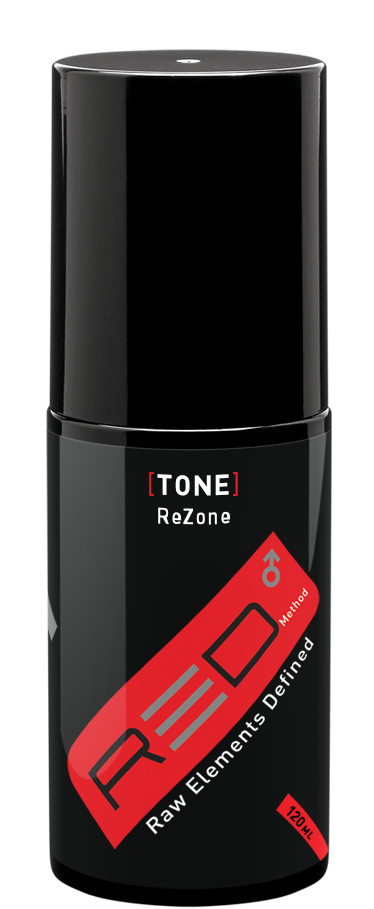 FOCUS INGREDIENTS:
Rice Ferment Filtrate (Sake) – A naturally derived antioxidant, sake is the traditional rice ferment of Japan and was first brewed around 300 B.C. Sake, made by the fermentation of rice, yields low molecular peptides which offer a protective function for both hair and skin. It is rich in phosphoserine, ferulic acid, cysteine and cystine, offering skin valuable hydration, smoothing and soothing properties, and detoxifying, regenerating benefits for younger-looking skin.
Acetylsalicylic Acid (Aspirin) – An analgesic that relieves minor aches and pains, acetylsalicylic is an anti-inflammatory which supports cell turnover. Especially important for men when it comes to treatment of acne and other skin inflammations, this beta hydroxy acid (BHA) sloughs dead skin cells and prevents the clogging of pores.
Aloe Barbadensis (Aloe Vera) Leaf Juice – A succulent that soothes and calms the skin while improving hydration, providing anti-inflammatory, antiseptic benefits and aiding in the healing of cuts, grazes, insect bites and burns due its capacity to accelerate the turnover of collagen. In addition, it also prevents immune suppression caused by UVB rays by repairing damage to langerhans cells and its polysaccharides provide immunostimulant properties where salicylate and carboxypeptidase are responsible for its anti-inflammatory activity.
Melaleuca Alternifolia (Tea Tree) Leaf Oil – This essential tea tree oil is strongly germicidal and used as an important natural antiseptic, antibacterial and anti-inflammatory to keep skin clean and fresh. Penetrating quickly into skin, it also improves acne conditions and fungal infections due to its broad-spectrum antimicrobial activity and alleviates histamine-induced edema associated with contact hypersensitivity due to the medicinal components of cineole and terpinen.
Totarol – A naturally occurring plant extract with potent antibacterial and antioxidant properties. Thoroughly purified after extraction from the Totara tree, Totarol is a potent antioxidant with antimicrobial activity. Propionibacterium acne, the bacterium involved in acne, is particularly sensitive to this extract making Totarol effective in the treatment of acne as well as rosacea.
Montmorillonite – With inherent healing properties, montmorillonite is a soft phyllosilicate mineral that reduces sebum, hydrates skin, minimizes pore size and provides naturally-balanced minerals and trace mineral support. A natural detoxifying, nutritional and bactericidal agent, it also reduces trans-epidermal water loss (TEWL) and enhances tissue repair.
Salicylic Acid – A naturally-occurring beta hydroxy acid (BHA), salicylic acid is a keratolytic agent (causing the outer layer of the skin to loosen or shed) with anti-inflammatory, antiseptic, fungicidal, antioxidant and bactericidal properties. Supporting cell turnover, it acts as a chemical trap for free radicals, quickly penetrating the pores to exfoliate inside as well as out.
Aspalathus Linearis (Rooibos) Extract – A hardy shrub sometimes referred to as "red bush tea", the extract from this plant has high antioxidant and free radical scavenging properties and is rich in minerals and flavonoids. When applied topically, rooibos has a soothing effect on the skin and aids with such problems as eczema, rashes and acne, providing anti-inflammatory, anti-mutagenic and antimicrobial benefits.
REDMethod – Unrivaled Results for Today's Man!

PURCHASE REZONE NOW AND SAVE!